The 100 by Kass Morgan: Book review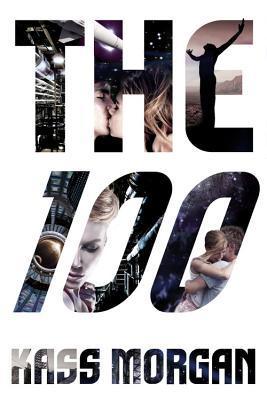 Book title/ Author: The 100 by Kass Morgan
Publisher/ Year: September 3rd 2013 Little, Brown
Genre: YA Dystopian
Series: The Hundred #1
Pages: 336
Source/ Format: e-galley | NetGalley
(Thanks NetGalley/Little, Brown!)
Rating: 3 stars out of 5
I received this from the publisher in exchange for an honest review. This in no way affected my opinion.
*This review may contain spoilers!*
Synopsis
In the future, humans live in citylike spaceships orbiting far above Earth's toxic atmosphere. No one knows when, or even if, the long-abandoned planet will be habitable again. But faced with dwindling resources and a growing populace, government leaders know they must reclaim their homeland... before it's too late.
Now, one hundred juvenile delinquents are being sent on a high-stakes mission to recolonize Earth. After a brutal crash landing, the teens arrive on a savagely beautiful planet they've only seen from space. Confronting the dangers of this rugged new world, they struggle to form a tentative community. But they're haunted by their past and uncertain about the future. To survive, they must learn to trust - and even love - again.
My review
I feel like I read this book backwards because I've partly watched season 1 of the TV show, and I didn't even realise it was a book! At first I thought the book was written after the TV show, but when I saw it was based on the book, I was intrigued.
I couldn't really get to grips with the timing in this book, as the whole of this book is pretty much entirely fit into the pilot episode. There was a lot of unneeded filler chapters, probably because there were four POVs, and sometimes there wasn't much going on. And although I liked Glass in this book, the TV show is fine without her. That could've been a complete storyline gone, which may have led to more character development for the rest of the characters.
The storyline in general was something I enjoyed, especially the space aspect of the dystopia. However, I don't feel like we got to see enough of the spaceship, even though one of the POVs was set on it.
Wells comes across so much better in the TV show than in the book. Maybe it's because you're reading directly from his point of view, but the book really emphasises just how much he's in love with Clarke. SO MUCH. It got boring and repetitive really quickly.
On the other hand, I still loved Clarke in this. She felt exactly the same to me and it was refreshing to read from her perspective without her liking Finn. Apart from Clarke, I felt that the females in this book were lacking a bit of fierceness. Octavia wasn't the same; she was meek and shy compared to outspoken like in the TV show, and there was obviously no Raven.
Bellamy is by far the most interesting male character of this story. Sure, he's not the nicest, but he cares about his sister and about Clarke and that's that. His personality was the most interesting to read from, with his flashbacks and the fact that he seemed to be the only one with his head screwed on.
All in all, I preferred the TV show a lot more, but if you love the world and want to see it from a different view, you might like it.
Izzy