Divergent by Veronica Roth: Book review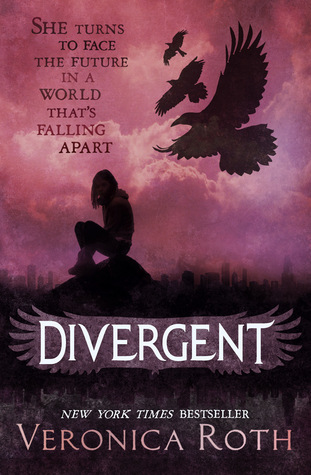 Book title/ Author:
Divergent by Veronica Roth
Publisher/ Year: February 2nd 2012 HarperCollins
Genre: YA Dystopian
Series: Divergent #1
Pages: 489
Rating: 4 stars out of 5
*This review may contain spoilers!*
Society is divided into five factions, each dedicated to the cultivation of a particular virtue, in the attempt to form a 'perfect society'. On her Choosing Day, Beatrice Prior renames herself Tris, rejects her family's Abnegation group, and chooses another faction.
It's hard for me to put into words how much I loved Divergent. Unfortunately, I avoided reading it for so long because of all the hype surrounding it. I would hate to read a well-loved and popular book and end up disliking it. And so I put the book on the bottom of my pile and told myself I would get to it someday, not knowing how much I absolutely needed this book in my life.
I REALLY wanted this book to be nothing like The Hunger Games (as much as I loved that series) and I am so glad that it's not. Obviously it's still Dystopian but Divergent is a completely different story.
Tris is an amazing main character, someone I know a lot of people would like to be. She's smart, brave, self-less, funny and countless other things, all at the right times. I liked how she doesn't have one particular trait, instead using her Divergence (is that a word?) to help her face different challenges and obstacles throughout.
Veronica Roth also made some awesome best friends for Tris too. Christina is everything a girl's best friend should be: witty, powerful, caring, and sometimes a really girly-girl. But I also liked how she certainly wasn't perfect. She accused Tris of her motives and sometimes wasn't there when she needed to be, but that's what made her real.
I equally loved Uriah, for becoming a part of Tris' life right when she needed a new friend, and not leaving her afterwards. I'm just sad he won't be in the film adaptation! I would've loved to see who would play him.
The romance between Tris and Tobias was a bit lacklustre at first, with him being all cold and intimidating, but then it turned into something beautiful. In some ways I really liked Four at the beginning of the book, as he played the role of a hot, ultimate fighting-machine that was untouchable, in many senses. And then you found out about his back story and he started to open up to Tris and you just fell in love even more. I love how both Four and Tris were the others rock at a point in the story, showing they are equal beings, in the minds of the reader, the author, and the two of them.
Overall I really enjoyed the plot. I thought the idea of the 5 factions was interesting and it played out very well. I love how Veronica Roth managed to entwine current day topics such as suicide and bullying into such a fantastic story, and giving good opinions on them, from the POV of Tris. I also adored how she managed to make Tris a realistic teenage girl, dealing with all kinds of everyday struggles while also saving the factions and being a heroic warrior and persevering through impossible times.
If you're looking to fall in love with an author, a bunch of characters and a series of books, then I suggest you read Divergent. One of my new all-time favourite books. Can't wait to start Insurgent!