The Scorch Trials by James Dashner: Book review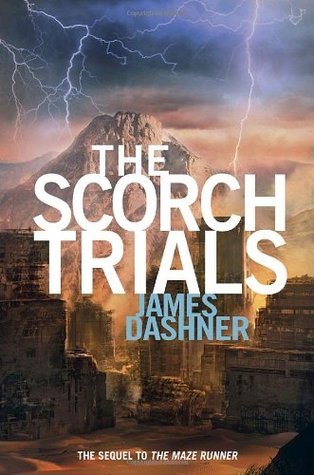 Book title/ Author: The Scorch Trials by James Dashner
Publisher/ Year: October 12th 2010 Delacorte Press
Genre: YA Dystopian
Series: The Maze Runner #2
Pages: 360
Source/ Format: Hardback | Borrowed from friend
Rating: 4 stars out of 5
*This review may contain spoilers!*
Synopsis
Solving the Maze was supposed to be the end. Thomas was sure that escape from the Maze would mean freedom for him and the Gladers. But WICKED isn't done yet. Phase Two has just begun. The Scorch. There are no rules. There is no help. You either make it or you die. The Gladers have two weeks to cross through the Scorch - the most burned-out section of the world. And WICKED had made sure to adjust the variables and stack the odds against them. Friendships will be tested. Loyalties will be broken. All bets are off. There are others now. Their survival depends on the Gladers' destruction - and they're determined to survive.
My review
A lot of people have told me that this series is a bit of a let-down after the first book, The Maze Runner, but I don't really agree. This sequel wasn't as good as the first, but I definitely enjoyed it. I think it was a good continuation of the story and while it answered some questions, it also gave me a LOT more that I need the answers too.
Even though the writing style of this book isn't anything less than what I usually read, I found this book really easy to get into. It gripped me right from the start and I think it was down to the fact that the chapters in this were very short, which I loved.
The Scorch Trials brought an addition of a lot of things to the table: new characters, more insight into WICKED and the cranks, a bit more back story, and my favourite of them all, the labels. At first I didn't like Brenda and Jorge, but Jorge grew on me when I sensed that he would be trustworthy. Brenda on the other hand, was so clingy and touchy-feely towards Thomas and he obviously got put off by it. James Dashner adding Brenda in annoyed me because she wasn't really much use and she just felt like Teresa's replacement, as though he couldn't write a book without one main female character being in love with Thomas. Some questions I had about WICKED were answered, but it also left me with a lot of new ones. The Scorch Trials gives us some more information into how involved Thomas and Teresa were in the making of The Maze, and their relationships within the groups.
This book kept me in suspense for the entirety of it, and I still didn't get all my queries answered! This just makes me want to read the final book even sooner.
If you enjoyed The Maze Runner, I do think you should at least give The Scorch Trials a go. Who knows, maybe you'll really like it like me!