Paper Towns by John Green: Book review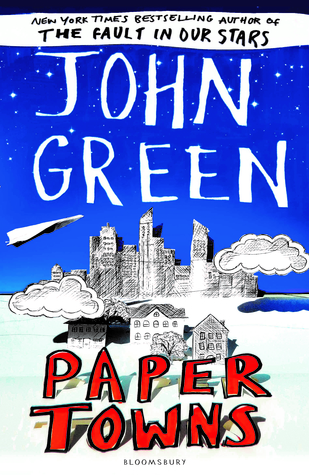 Book title/Author: Paper Towns by John Green
Publisher/Year: December 19th 2013 Bloomsbury
Genre: YA Contemporary
Series: No
Pages: 305
Source/Format: Paperback | Borrowed from sister
Rating: 4 stars out of 5
*This review may contain spoilers!*
Synopsis
Quentin has always loved Margo Roth Spiegelman, for Margo (and her adventures) are the stuff of legend at their high school. So when she one day climbs through his window and summons him on an all-night road trip of revenge he cannot help but follow.
But the next day Margo doesn't come to school and a week later she is still missing. Q soon learns that there are clues in her disappearance... and they are for him. But as he gets deeper into the mystery - culminating in another awesome road trip across America - he becomes less sure of who and what he is looking for.
My review
I had high hopes going into this, and I wasn't disappointed. After absolutely adoring The Fault in Our Stars last year I really wanted to read another one of John's books and experience more of his stories. I chose Paper Towns as I had heard good things, and also because I knew that it was being made into a film, that is being released quite soon I believe.
The whole road-trip premise of this excited me as I enjoy reading about them, even though I think I've only read one other book that had a road-trip in it. I am making it my goal to read a lot of contemporary books this summer, especially ones that are very popular and have been out for a while, so I can tick this one off.
I really connected with Margo in particular out of all the characters in this book, as I understand the feeling of wanting to escape, and worrying about whether you're going to spend your whole life in the same town, but unfortunately she actually wasn't in the book much, despite how much Quentin thought about her and how much she was talked about.
At times I did think that Quentin seemed to think about Margo a bit too much, but then again, he has had a crush on her for years and years (I can't remember exactly how long, sorry), and after he spends this one crazy night with her he can't help but want more, which I think is justified, and quite relatable, to be honest. I liked Quentin, because he was normal. I know that sounds weird, but I feel like in books the male MC has to be incredibly handsome, or astoundingly clever, and Quentin wasn't really. Now that's not to say that Quentin isn't handsome or clever, because I think he was both, but he was also just a nice guy, doing something for someone he cares about, and I think that's all I needed.
Overall, I really enjoyed this and I definitely want to read even more of John's books, and I want to watch the film of this when it comes out too!