The Serpent King by Jeff Zentner: Book review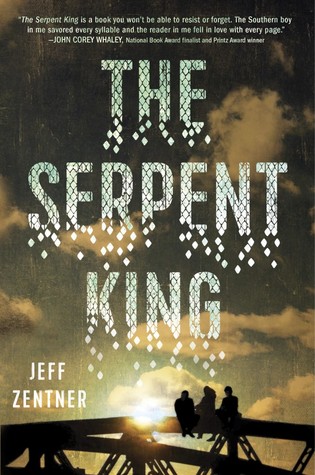 Publisher/Year: March 8th 2016 Random House
Genre: YA Contemporary
Series: No
Pages: 384
Source/Format: e-arc | NetGalley
(Thanks NetGalley/Random House!)
Rating: 4.5 stars out of 5
I received this book from the publisher in exchange for an honest review. This in no way affects my opinion.
Synopsis
Dill has had to wrestle with vipers his whole life—at home, as the only son of a Pentecostal minister who urges him to handle poisonous rattlesnakes, and at school, where he faces down bullies who target him for his father's extreme faith and very public fall from grace.
He and his fellow outcast friends must try to make it through their senior year of high school without letting the small-town culture destroy their creative spirits and sense of self. Graduation will lead to new beginnings for Lydia, whose edgy fashion blog is her ticket out of their rural Tennessee town. And Travis is content where he is thanks to his obsession with an epic book series and the fangirl turning his reality into real-life fantasy.
Their diverging paths could mean the end of their friendship. But not before Dill confronts his dark legacy to attempt to find a way into the light of a future worth living.
My review
I was not expecting to enjoy this books as much as I did. To be honest, the religious aspect of this book did put me off a bit initially, because I didn't want it to try and push the religion on to the reader, and it didn't. Instead it was simply a pivotal part of the story, in Dill's life, which I had no problem with at all.
Dill was almost the perfect main character - he felt like the one holding the friendship group together, and he was the leader, even if he wasn't necessarily the most outspoken. However, he did feel a bit boring at times, and although what he was dealing with made for such a great story, combined with everything else, I would've liked to see a bit more from him earlier on.
I loved each of the 3 - Travis, Dill and Lydia - equally but in different ways. They are all so unique and yet that makes them so much fun to read about. Also, Zetner's writing is truly beautiful. I found myself unable to put this book down and I cannot wait for his next one.
Izzy