Amity by Micol Ostow: Book review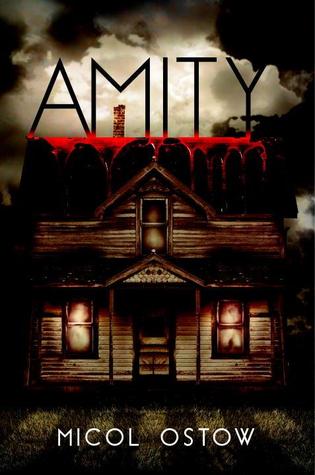 Book title/ Author: Amity by Micol Ostow
Publisher/ Year: August 26th 2014 Egmont USA
Genre: YA Horror
Series: No
Pages: 368
Source/ Format: eARC Edelweiss
(Thanks Edelweiss/ Egmont USA!)
Rating: 3 stars out of 5
*This review may contain spoilers!*
Synopsis
For fans of Stephen King and American Horror Story, a gruesome thriller suggested by the events of the Amityville Horror. Inspired by a true-crime story of supernatural happenings and gory murders, Amity spans two generations and beyond to weave an overlapping, interconnected tale of terror, insanity, danger, and death.
My review
This book had a nice writing style - it made it easy for me to whiz through it, which is always a plus for me nowadays. The book alternates chapters between Gwen and Connor, and is set 10 years apart. These two teenagers both move into the ancient Amity house, and seem to be hugely affected by things that go on throughout.
When I found out Amity was based on a true crime story, I immediately did a little bit of research on the original Amityville horror, which led me to have the opinion that Amity isn't really strongly following the Amityville story. However, I still appreciate this book for being a decent horror novel.
I felt like I was literally reading a horror film, and unfortunately that was just one of many things that made for an uncomfortable reading experience. Also, I felt as though I couldn't connect with any of the characters - they all just crept me out too much. The other main issue I had with this book was how Gwen and Connor became so accustomed to calling Amity 'her', as if she was a person, and yet was still giving themselves rational explanations for everything that was going on.
My opinion on Connor changed from mixed feelings to being downright mad when he said it was his mums fault for being hit by his dad. People like that make me sick and I find it hard to like books if they include a close-minded character like that, whether the author intended them to be that way or not. And even though he said he hated his dad, that doesn't make up for his actions. I feel very strongly about these kinds of situations. I personally disagree with his thoughts on the matter. Also, the whole weird incest kiss dream thing just solidified my opinion on Connor.
Towards the end of the book, it seemed as if Gwen and Connor were becoming possessed by the house (if that's even possible). In some twisted way, I can see how they would work well together. I mean, they're both crazy to start, and I am not talking about their mental health issues because that has nothing to do with the fact they have become possessed by a seemingly-inanimate object.
I was quite confused as to why the author took a completely different turn and started talking about Salem witches and caves, but at the very end, everything started to make sense.
I enjoyed the epilogue and how it merged Gwen and Connor's POVs. The letter to Jules was a good way to end the book and I feel like it would please a lot of people.
If you enjoy incredibly creepy books that make your skin crawl, I would recommend Amity to you, and especially now in October, it is the perfect time of year.
Izzy