Since You've Been Gone by Morgan Matson: Book review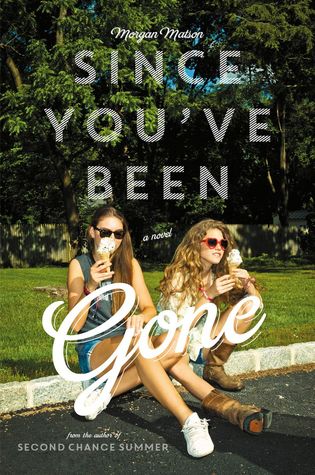 Book title/ Author: Since You've Been Gone by Morgan Matson
Publisher/ Year: July 3rd 2014 Simon & Schuster Children's
Genre: YA Contemporary
Series: No
Pages: 449
Source/ Format: Paperback Bought with my own money
Rating: 5 stars out of 5
*This review may contain spoilers!*
Synopsis
It was Sloane who yanked Emily out of her shell and made life 100% interesting. But right before what should have been the most epic summer, Sloane just... disappears. All she leaves behind is a to-do list. On it, thirteen Sloane-inspired tasks that Emily would normally never try. But what if they could bring her best friend back?
My review
Since You've Been Gone has received nothing but praise since it came out and I wanted to see if I shared the same opinions as everyone else. I'm proud of myself as normally I shy away from hyped-up books, but this time I took the plunge and went for it.
This book tells the tale of a girl, who would normally only be the sidekick, having the limelight for once and showing that everyone has a story. It also tells the story of friendship, rather than romance.
Throughout the course of the book, you really see Emily grow as a person, navigating her way through both fun and tricky situations alike. At the start, she feels like she is nothing without Sloane, but miraculously, she manages to find herself a great group of friends that help her to get through the list that Sloane made her. Unfortunately, she ends up losing them when she kissed Frank when he was still with his longtime girlfriend. Although, I strongly believe that everything between her and her friends will be sorted after they realise that both her and Frank like each other. You really see Emily develop throughout the summer, and actually see her turn more into Sloane's sort of character, and vice versa.
For the majority of the book I doubted how genuine Sloane was and I thought she just used Emily, but I'm glad that I was wrong.
You could see that Dawn and Emily's friendship was slowly becoming like Sloane and Emily's in the way that they discussed everything. You don't really find out what happens between them, but I hope that they remained friends, even after everything that happened.
Collins was one of my favourite characters at the beginning for how funny and likeable he was. At the end he was still one of my favourite characters, but now for being genuine to Emily, and telling her that he had to put on an act.
I enjoyed the whole build-up of Emily and Frank's relationship; how you can see their friendship morphing into something more. I actually quite liked the fact that you don't read much about Frank and Emily once they realise they both like each other, because it puts the emphasis on their friendship rather than on them as an item, which is what it should be.
There is honestly nothing bad I have to say about this book - it was perfect in my eyes.
This book is perfect for any time of the year, even though it's set in summer. It has become a favourite of mine and I highly suggest you try it out!