Insurgent by Veronica Roth: Book review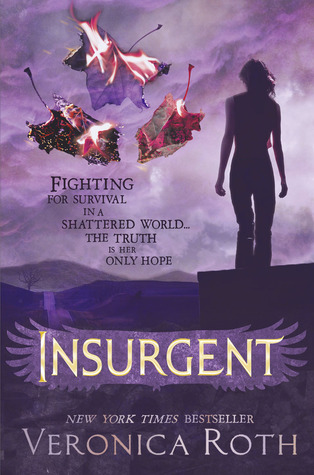 Book title/ Author: Insurgent by Veronica Roth
Publisher/ Year: May 1st 2012 Harper Collins
Genre: YA Dystopian
Series: Divergent #2
Pages: 525
Source/ Format: Paperback Bought with my own money
Rating: 4 stars out of 5
*This review may contain spoilers!*
Synopsis
Tris has survived a brutal attack on her former home and family. But she has paid a terrible price. Wracked by grief and guilt, she becomes ever more reckless as she struggles to accept her new future. Yet if Tris wants to uncover the truth about her world, she must be stronger than ever... because more shocking choices and sacrifices lie ahead.
My review
When I found out that Veronica Roth decided to not include much of a recap in Insurgent, I was a bit wary prior to reading it. However, saying that, I feel like it was a good decision in this particular case as it helped the books to flow from one to the other.
It shocked me to see how much the ending of Divergent affected everything in Insurgent - it pretty much messed everything up and everything that the factions had worked hard to achieve go up in flames. The factions became so unstable and wary of each other, but at the same time had to make alliances and not depend solely on their factions any more. I like the fact that the factionless have gained power due to the events at the end of the first book, because I feel as though they were overlooked in Divergent.
I feel like Tris really came out of her shell in this book. She no longer depended on Tobias to say and do everything for her and let him stick up for her. She became more independent and comfortable in her own skin. My favourite part of the book was when she was put under the peace serum; all the things she was saying were just so unlike her and it was hilarious.
Reading about Tris and Tobias being so uncomfortable living in the Amity headquarters was also quite funny because the Amity lifestyle is the complete opposite to the Dauntless one. Tobias is a lot different in this book too, due to all the horrible things he has been through and had to witness.Although most of that happened before the time that Divergent was set, it really shows in his personality the most in this book. In some ways I like the new Tobias - he is more powerful and more of a leader. However there were some times where I wanted the relationship between Tris and Tobias to be like how it was in Divergent.
It was weird reading about Tris not sitting with Christina; though that sounds like a minor thing, that was something I really enjoyed reading about in Divergent. Because of this, it made me so happy reading about Christina and Tris becoming friends again because I really missed reading about their friendship.
The ending certainly shocked me a lot. I kind of expected there to be a plot twist at the end but nothing to this degree. I feel like it was a really good way to end the book and continue with that plotline for Allegiant.
I highly suggest reading Insurgent if you enjoyed Divergent and would like to continue with the story!
If you would like to read my review for Divergent, it's right here.
Izzy