The Walled City by Ryan Graudin: Book review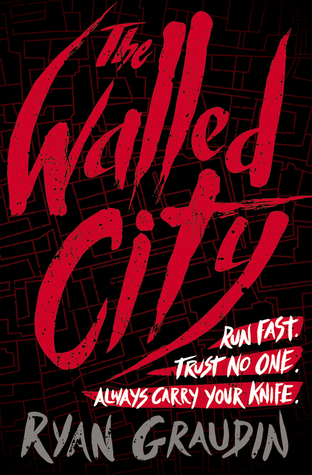 Book title/Author: The Walled City by Ryan Graudin
Publisher/Year: November 4th 2014 Little, Brown
Genre: YA Dystopian
Series: No
Pages: 432
Source/Format: Hardback | Borrowed from friend
Rating: 5 stars out of 5
*This review may contain spoilers!*
Synopsis
730. That's how many days I've been trapped.
18. That's how many days I have left to find a way out.
DAI, trying to escape a haunting past, traffics drugs for the most ruthless kingpin in the Walled City. But in order to find the key to his freedom, he needs help from someone with the power to be invisible...
JIN hides under the radar, afraid the wild street gangs will discover her biggest secret: Jin passes as a boy to stay safe. Still, every chance she gets, she searches for her lost sister...
MEI YEE has been trapped in a brothel for the past two years, dreaming of getting out while watching the girls who try fail one by one. She's about to give up, when one day she sees an unexpected face at her window...
In this innovative and adrenaline-fueled novel, they all come together in a desperate attempt to escape a lawless labyrinth before the clock runs out.
My review
What initially interested me about this book was its fascinating concept and the rarity of its kind, being a standalone YA dystopian novel. My friend who I borrowed this from also enjoyed it very much and recommended it highly to me, which turned out to be entirely accurate.

Asian culture in general interests me so much, so when I heard this book was set in China, I knew I had to at least try it. Then when I heard that it was based on a real city in China, I picked it up straight away. It was exactly what I wanted it to be: an educational, original, well-written, hard story that has become a new favourite of mine.
Despite its length, I sped through this book due to its short chapters and fast pace. I much prefer books to have short chapters, as I find myself reading through them much quicker than books with constant long ones. This book was certainly full of action, but just the right amount. Every page was a new twist and turn in the never-ending adventure and I didn't want it to finish.
At first I thought that 3 POV's might be too much, but that didn't turn out to be the case. Instead it was the perfect amount, getting to read the story from 3 completely different perspectives.
All throughout the book I expected a love triangle to occur at some point, but it didn't! At first I assumed that Dai and Jin would get together, but when Dai obviously seemed interested in someone else (Mei Yee), I dropped that idea. There was still a part of me that thought Jin could be harbouring feelings for Dai, but I am so glad that that wasn't the case.
I actually don't have a favourite character. This surprised me as I tend to favour someone, sometimes without even knowing it. I just have so much love for the three main characters in this book that it wouldn't feel right to pick one over the other two. They are also so incredibly different, which makes it hard but I wouldn't want it any other way.
I recommend this book to anyone who is looking to open up their eyes to something incredible, such as The Walled City.
Izzy