She Is Not Invisible by Marcus Sedgwick: Book review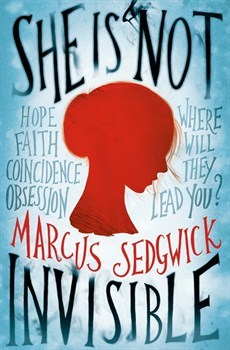 Book title/Author: She Is Not Invisible by Marcus Sedgwick
Publisher/Year: October 3rd 2013 Orion Children's
Genre: YA Mystery/Contemporary
Series: No
Pages: 354
Source/Format: Hardback | Bought
Rating: 5 stars out of 5
*This review may contain spoilers!*
Synopsis
Laureth Peak's father has taught her to look for recurring events, patterns, and numbers - a skill at which she's remarkably talented. When he goes missing while researching coincidence for a new book, Laureth and her younger brother fly from London to New York and must unravel a series of cryptic messages to find him. The complication: Laureth is blind. Reliant on her other senses and on her brother to survive, Laureth finds that rescuing her father will take all her skill at spotting the extraordinary, and sometimes dangerous, connections in a world full of darkness.
My review
All I knew about this book going in to it was that the main character was blind. That was literally it, but I enjoyed it that way.
This book was very slow-moving, and most of the time I don't get on with books like that, but for some reason, it worked in this case. This book doesn't need action in it, because it already has enough of an interesting story.
I fell in love with this book; with its story, and the writing, the tone and the pace. I had heard good things about Sedgwick's writing prior to reading this novel, but now I know why. I devoured this book, reading all of it in one day, over 2 sittings I believe. I just couldn't get enough of it. Part of that I think comes down to the fact that there is a lot of speech in this book, more than I have encountered before. I think this is down to the fact that Laureth is blind and has to communicate a lot, more than most people. Also, this means that there is no real case of there being a description of what she's seeing, instead we get more of an internal monologue. Laureth's thoughts and feelings are shared on another level, and that made me really connect to her.
The bits of the book that are from Jack's notebook really interested me, as it gave insight into another person's brain, instead of focusing solely on Laureth.
Overall, I loved this book. It was an absolute pleasure to read it and I know I'm going to come back to it over and over. I hope more people choose to pick it up in the future.
Izzy