Let's Get Lost by Adi Alsaid: Book review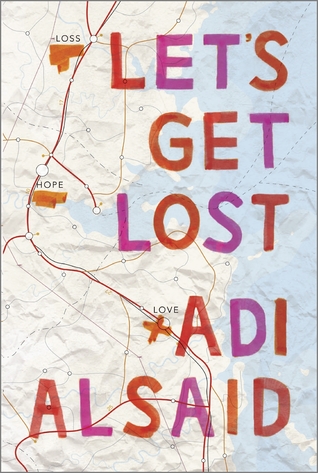 Book title/ Author: Let's Get Lost by Adi Alsaid
Publisher/ Year: August 1st 2014 Harlequin Teen
Genre: YA Contemporary
Series: No
Pages: 304
Rating: 5 stars out of 5
*This review may contain spoilers!*
Synopsis
Five strangers. Countless adventures. One epic way to get lost. Four teens across the country have only one thing in common: a girl named Leila. She crashes into their lives in her absurdly red car at the moment they need someone the most.
My review
First things first, out of the 4 main characters (apart from Leila) I have definitely written the most about Hudson. It's probably because he is essentially the love interest of this story. Also, throughout the story, Leila thinks about him most.
I'm going to be honest here and say that I was VERY intimidated to read this book. All the reviews I'd read had been positive and praised Adi Alsaid's writing massively. I find myself putting off reading popular books for 2 reasons: one being that I believe the first time you read a book is the best time, as you don't know what to expect. Reading a good book for the first time is a memorable experience and I don't like seeing those experiences end. The other reason why I put off reading hyped-up books is because I'm obviously going to want to like the book, and I'd absolutely hate it if I didn't. I have put off reading many books because of these reasons, some including Divergent and The Fault In Our Stars. If you have read my reviews on these, you may already know this about me.
Although, once I got over being intimidated to start the book, I dove right in and got hooked on it immediately. I just fell in love with Hudson and Leila's relationship, with the simplicity of it. At this point in the story, when I was reading about Leila and Hudson meeting and getting to know each other, I was unaware that other main characters would be introduced, but I am glad to say I love the relationship Leila has with each of the four equally.
The book is split into five parts, focusing on five main characters. They are Hudson, Bree, Elliot, Sonia, and Leila.
Right from the start you could sense that Hudson and Leila had an instant connection. Despite them only just meeting, Hudson is already trying to make a good first impression towards Leila. They form a magical bond at once and you can tell that even if they don't sustain a relationship, they will have a friendship for life. One of my favourite parts of Hudson and Leila's story is that he didn't want to think about tomorrow, not because he had a once-in-a-lifetime interview, but because Leila might not be there.
I feel like in another life Bree and Leila could've been sisters. They both share that free-spirited energy and they completely understood each other. I like the way Adi Alsaid wrote Leila to be extremely understanding in many ways, one being able to understand when to step back and let people patch things up, like in Bree and her sister's case.
When I first started reading Elliot's story, I immediately assumed it would be a typical cliché tale, whereas it was completely the opposite. Adi Alsaid almost went as far as to be mocking the whole cliché love story, which I appreciated.
All throughout the process of me reading Sonia's story, I felt so uncomfortable, because it was such a stressful experience she had to go through. However, I am please I felt as uncomfortable as I did, because it shows just how awesome Adi Alsaid's writing is.
A personality trait of Leila's that I adored was how she didn't try to make the relationships she'd formed anything more than what they were. She never asked for their phone numbers, and was content with the possibility that they would meet again.
This book has made me crave a roadtrip- just taking off with no planned destination, and meeting the most amazing people along the way.
Let's Get Lost has certainly made my list of 2014 favourites, and I hope it will be a favourite of others too. This is a perfect book for summer and I couldn't recommend it enough.