Blue Lily, Lily Blue by Maggie Stiefvater: Book review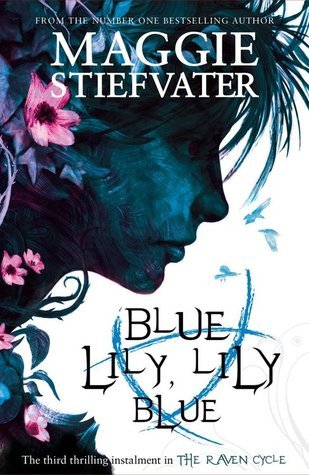 Book title/ Author: Blue Lily, Lily Blue by Maggie Stiefvater
Publisher/ Year: October 21st 2014 Scholastic
Genre: YA Fantasy
Series: The Raven Cycle #3
Pages: 389
Source/ Format: Paperback | Bought with my own money
Rating: 5 stars out of 5
*This review may contain spoilers!*
Synopsis
There is danger in dreaming. But there is even more danger in waking up. Blue Sargent has found things. For the first time in her life, she has friends she can trust, a group to which she can belong. The Raven Boys have taken her in as one of their own. Their problems have become hers, and her problems have become theirs. The trick with found things though, is how easily they can be lost. Friends can betray. Mothers can disappear. Visions can mislead. Certainties can unravel.
My review
The split between above and below in the prologue had me thinking that you would read from Maura's perspective all the way through the book, and although that wasn't the case, I didn't really mind because it just built up my tension for me to read about her until when it happened.
In Blue Lily, Lily Blue we see ourselves finally getting properly introduced to the couple that is Colin Greenmantle and his wife Piper. Part of me absolutely loved reading their conversations because it just involved profanities and rudeness being exchanged between the two. It was hilarious. However the other part of me couldn't really work out why Colin and Piper got married in the first place, because neither of them seem to particularly like the other one. That being said I'm very glad that they are together because it made for some comedic lines.
I can't believe Maggie has kept us waiting until the third book in this series for us to finally see something happening between Gansey and Blue. At this point I honestly thought nothing was ever going to fabricate, but I see the spark of something ready to ignite between the two of them. Whilst on the subject of Blue, I'd like to talk about my love for her. I think she is extraordinary to be able to pick others up when she herself is going through a confusing time, and not letting it take over. We see Blue have to grow up a lot in this book, as she doesn't have a mother figure for most of the book.
Now that Ronan isn't surrounded by Kavinsky any more, he kind of gets back to his normal, sullen self, which I really don't mind. His and Calla's little flirtations are some of my favourite parts of this series, so it's nice to see him back. I feel like we didn't get to see as much of Noah as we did in The Dream Thieves, but I get that this wasn't as much his story this time around. I'm glad that Adam was still a big part in this book, and I think he had some very important scenes, such as his time with Persephone. I also seemed to notice him and Ronan becoming closer; hanging out more and having less arguments. As for Gansey, he was partly his usual self, and yet there was a time when he felt strange, which might not sound like much but it is big for someone like Gansey, who needs himself to be Richard Gansey III.
Gwenllian provided some light entertainment and also some crucial information to the story and she felt like a little marker stating that The Raven Boys and Blue had actually got somewhere with their hunt.
The ending left me with a lot of unanswered questions that I can't wait to be answered for me when book 4 comes out sometime later this year. This is already one of my favourite books of 2015, so if that isn't enough encouragement to read this series then I don't know what is!
Izzy