Station Eleven by Emily St. John Mandel: Book review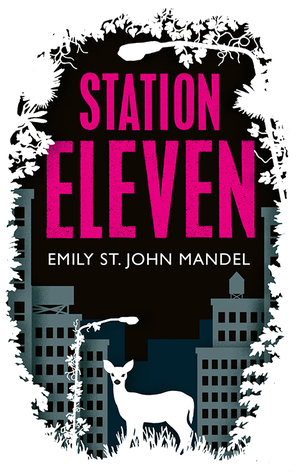 Book title/Author: Station Eleven by Emily St. John Mandel
Publisher/Year: September 10th 2014 Picador
Genre: Science Fiction
Series: No
Pages: 384
Source/Format: Hardback | Bought with my own money
Rating: 4 stars out of 5
*This review may contain spoilers!*
Synopsis
DAY ONE - The Georgia Flu explodes over the surface of the earth like a neutron bomb. News reports put the mortality rate at over 99%.
WEEK TWO - Civilization has crumbled.
YEAR TWENTY - A band of actors and musicians called the Travelling Symphony move through their territories performing concerts and Shakespeare to the settlements that have grown up there. Twenty years after the pandemic, life feels relatively safe. But now a new danger looms, and he threatens the hopeful world every survivor has tried to rebuild.
My review
Normally I'm not too keen on survival novels, with people barely living and the world completely turning upside down, but Station Eleven captured my heart and made me think about the world in a different way.
This book portrays how an apocalypse could happen in a unique way, with art and literature and music still remaining a big part of at least some people's lives. It seemed quite unrealistic at first, to imagine people still performing and travelling after such a drastic end to humanity, but then I became used to it, and I realised that I have no way of knowing what could happen when the world ends, so who am I to say that there won't be people performing Shakespeare?
I had no idea what turn this book would take after the beginning, but now looking back after having read the book, I am in awe at how clever Mandel is. Her whole book is one big puzzle, with pieces connecting and making sense throughout the novel. At times I did find this book a bit hard to get through, but I can see why.
Part of me was a bit concerned with the amount of POVs and with the timeline moving back and forth, but I do think that how Emily did it was the best possible way to show the whole story. When the two key storylines finally connected it felt like such a relief, like two friends who have finally found each other.
All the different locations were nice surprises every time, but I think my favourite was the airport - turned - library. However, with this book I don't think I could pick a favourite character. Each are so different and although that's what I like about them, not one is favoured over another.
This book sadly wasn't a 5-star read for me, but almost. I highly recommend this book to anyone, as I think it is a crowd-pleaser, due to the fantastic writing.