The Maze Runner by James Dashner: Book review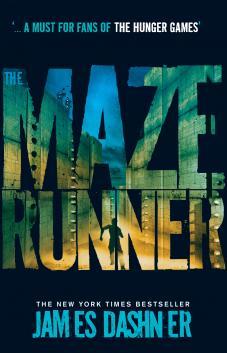 Book title/ Author: The Maze Runner by James Dashner
Publisher/ Year: August 24th 2010 Chicken House
Genre: YA Dystopian
Series: The Maze Runner #1
Pages: 371
Source/ Format: Paperback Bought with my own money
Rating: 5 stars out of 5
*This review may contain spoilers!*
Synopsis
When the doors of the lift crank open, the only thing Thomas remembers is his first name. But he's not alone. He's surrounded by boys who welcome him to the Glade - a walled encampment at the centre of a bizarre and terrible stone maze. Like Thomas, the Gladers don't know why or how they came to be there - or what's happened to the world outside.
My review
I had been meaning to read this book for a long time, ever since my best friend first recommended it to me. Then when I realised how soon the film was coming out, it pushed me over and I finally read it.
It reminded me a lot of The Knife of Never Letting Go by Patrick Ness, with the unique language and lack of females aspect.
Thomas was a strong main character and someone I could see eye-to-eye with. I found myself agreeing with most of his decisions and actually thinking like him too.
I found Chuck endearing and it was really sweet reading about his big moment when he finally felt useful for once. It broke my heart reading about Chuck's death at the end, and just reminded me of how horrible Gally is.
Teresa brought in a whole other dimension to the story, but one that doesn't feel out of place. I think Kaya Scodelario will be a good choice for her and I'm glad to see her make it onto the big screen as I was such a fan of hers in Skins.
The twist at the end was enjoyable and a great way to ensure that the series continues. It made me very interested about the next book.
I think the epilogue gave me the biggest shock of all - finding out that another group had been tested too. I thoroughly enjoyed this book, so if you're looking for a dystopian novel that will blow your mind, then you should check it out!