Black Ice by Becca Fitzpatrick: Book review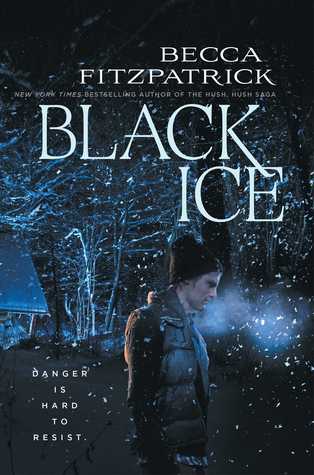 Book title/ Author: Black Ice by Becca Fitzpatrick
Publisher/ Year: October 7th 2014 Simon & Schuster
Genre: YA Thriller
Series: No
Pages: 400
Source/ Format: Netgalley || eARC
(Thanks Netgalley/ Simon & Schuster!)
Rating: 3.5 stars out of 5
*This review may contain spoilers!*
Synopsis
Britt Pheiffer has trained to backpack the Teton Range, but she isn't prepared when her ex-boyfriend, who still haunts her every thought, wants to join her. Before Britt can explore her feelings for Calvin, an unexpected blizzard forces her to seek shelter in a remote cabin, accepting the hospitality of its two very handsome occupants; but these men are fugitives, and they take her hostage.
But nothing is as it seems, and everyone is keeping secrets, including Mason, one of her kidnappers. His kindness is confusing Britt. Is he an enemy? Or an ally?
My review
Disclaimer: Although Mason has two names, I'm going to be calling him Mason in this review as it was the first name I knew him as.
The start of this book made me really confused because I assumed the girl in the prologue was Britt but you soon find out that it is someone else, which helps to connect it to the plot later on in the book.
Mason intrigued me from the get-go; I wanted to get to know both him and Calvin in the gas station as they seemed quite interesting in their own rights. I couldn't really pinpoint Mason's personality - he kept on surprising me with his actions throughout the hostage and kidnapping. I did assume that he liked Britt and wanted to keep her safe, but there were also times when I wasn't quite sure. I kind of feel sorry for him, because in the end he just turned out to be seriously mistaken.
I felt conflicted about Calvin because he was thought of so highly from Britt's point of view as he had been such a constant in her life. However that doesn't lessen the severity of some of the things that he had done. I really did not expect Calvin to turn out the way he did, and the same for Mason too!
The turn of events escalated quickly but I admired Britt for keeping her cool and not getting too intimidated, given the circumstances. She was definitely smart and she knew when to stick with Mason and when to doubt his actions.
The last roughly 25% of this book had me in pure suspense and I could not take my eyes off of the Kindle screen. Everything got quite tense and I had to read all the way to the end in one go to know what happened. The ending was quite standard but I do like the fact that Britt got some other friends, because Korbie just really got on my nerves all the way through the book.
This book is best read in Winter, so I'd say if you're in the mood for a snowy thriller, pick this one up now!