My True Love Gave To Me: Twelve Holiday Stories Edited by Stephanie Perkins: Book review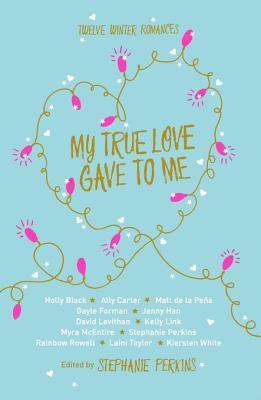 Book title/ Author: My True Love Gave To Me edited by Stephanie Perkins
Publisher/ Year: October 9th 2014 Macmillan Children's
Genre: YA Anthology/ Short stories
Series: No
Pages: 359
Source/ Format: Hardback || Bought with my own money
Rating: 5 stars out of 5
*This review may contain spoilers!*
Synopsis
On the first day of Christmas, my true love gave to me... This beautiful collection features twelve gorgeously romantic stories set during the festive period, by some of the most talented and exciting YA authors writing today. The stories are filled with the magic of first love and the magic of the holidays.
My review
Instead of writing a review on the book as a whole, I have decided to write a mini-review of sorts for each of the short stories included in this book.
Midnights by Rainbow Rowell
You are immediately immersed in the story of Mags and Noel but it doesn't seem overwhelming. I enjoyed the layout of the story and how Rainbow tried to compensate for the fact that it was only a short story by stretching it out over years. Mags and Noel's friendship made me really want one like theirs; they were made for each other in every single way.
The lady and The Fox by Kelly Link
I enjoyed this story. The whole concept of the Honeywells and Miranda coming to stay with them each year was nice, and my favourite character by far was Elspeth. She was just very wise, but funny and caring too, and I would love her to be my godmother. The story ended well and I did find myself wanting Miranda and Fenwick to be together.
Angels In The Snow by Matt de la Peña
This story is one of my favourites because I really enjoyed the premise of it and reading about the build-up of Shy and Haley, of them getting to know each other more and more. Olive the cat was really cute and I liked how Shy bonded with her.
Polaris Is Where You'll Find Me by Jenny Han
I don't think this story was long enough at all. The ending wasn't very good and I honestly thought that I was missing pages at first. I felt as though I had only just gotten into the story and connected with the characters when suddenly all I saw was a blank page indicating the end of the story.
It's A Yuletide Miracle, Charlie Brown by Stephanie Perkins
I now know why Stephanie is so loved by the book blogging community - she's amazing! I fell in love with this story, and Marigold and North, and I only wish that this could be a full-length story. I swooned over Marigold and North's relationship so much and how they just connected instantly. This story has made me want to pick up all of Stephanie's books now.
Your Temporary Santa by David Levithan
This story really left an impact on me. It showed the other side to Christmas - the side where not everything is all gift giving and happy families and Christmas carols. However, although it did show the slightly more honest side, it also showed the sweet side, with Riley, and Connor and "Santa" together at the end.
Krampuslauf by Holly Black
I think this may be my first time reading something that included magical realism, and I must say I loved it! The whole build up to the party and the party itself was written very well and it has definitely made me want to pick up one of her books.
What The Hell Have You Done, Sophie Roth? by Gayle Forman
I know I've said this so many times already, but reading this short story really has made me finally understand why these authors get so much love from their readers. I felt really comfortable and at home with Gayle's writing - how she isn't afraid to be brutally honest and uses that to her advantage rather than shying away from it. The romance in this story has to be one of my favourites and just the story in general too.
Beer Buckets and Baby Jesus by Myra McEntire
Unfortunately, I think this story was my least favourite of them all. While I do appreciate the fact that the protagonist was a boy, I just couldn't connect with the story and didn't find it that realistic. I found it strange that Gracie just happened to be fine with Vaughn liking her and also liked him back. Also, the disasters leading up to the pageant seemed too extravagant and the amount that happened in such a small period of time seemed extremely unlikely.
Welcome To Christmas, CA by Kiersten White
I have to admit, this story did make me cry. I just got invested in all the characters so quickly and everything worked out for everyone, which made me really happy. I tend to enjoy stories about food and cooking a lot, and this was no exception. This has made me want to check out Kiersten's other works and pick them up.
Star Of Bethlehem by Ally Carter
I really liked the adventure in this story and how it shows a small town to be welcoming instead of boring as they are normally known as. The ending sort of fitted all of the pieces together, it tied up all the loose ends and things that were only hinted at throughout the story. I liked Liddy and how she wasn't vain or snobby, and I liked how Ethan and his family accepted her.
The Girl Who Woke The Dreamer by Laini Taylor
At first I didn't think I would get on with this story. While I liked the premise, I couldn't quite connect with the writing style, however that changed pretty quickly and I found myself completely immersed in the story. I'm glad it was as long as it was as I felt it really needed that length and alternate perspective to be the best story it could be.
All in all, I LOVED this book! I now have a bunch of potential favourite authors creeping up on me, and I have lots of new books to check out. I would recommend this to anyone who loves Christmas stories, is a lover of these authors, or, like me, wants to try reading some new ones.
Izzy