Mosquitoland by David Arnold: Book review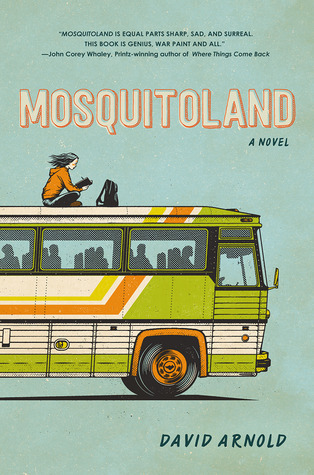 Publisher/Year: March 3rd 2015 Viking Books for Young Readers
Genre: YA Contemporary
Series: No
Pages: 352
Source/Format: Hardback | Bought
Rating: 4.5 stars out of 5
*This review may contain spoilers!*
Synopsis
After the sudden collapse of her family, Mim Malone is dragged from her home in northern Ohio to the "wastelands" of Mississippi, where she lives in a medicated milieu with her dad and new stepmom. Before the dust has a chance to settle, she learns her mother is sick back in Cleveland.
So she ditches her new life and hops aboard a northbound Greyhound bus to her real home and her real mother, meeting a quirky cast of fellow travellers along the way. But when her thousand-mile journey takes a few turns she could never see coming, Mim must confront her own demons, redefining her notions of love, loyalty, and what it means to be sane.
My review
This book really intrigued me from the first time I heard about it, but I didn't think it would be very likely that I would find it in a bookstore in London. When I did I knew that I had to pick it up and take it home with me, and I am so glad that I did.
Mosquitoland is unlike anything else I have ever encountered before, and although I feel like I've been saying that a lot lately, it is definitely true for this book. Mim is such an interesting character, and I don't really know how to describe her, but I loved her. She is so charming and charismatic, and yet really relatable too.
I've really been getting into roadtrip stories lately; they're the perfect summer read for me, and this one was made great partly down to Mim's personality and her ability to turn any situation into an entertaining one to read.
I loved this book because it was equal parts unbelievably unimaginable and surprisingly real all in one. David's writing style can not be faulted; I found myself completely immersed in this story and the craziness of it all.
I encourage everyone reading this to give this book a go, even if it doesn't sound like your cup of tea because I promise you it is worth your time.