Severed Heads, Broken Hearts by Robyn Schneider: Book review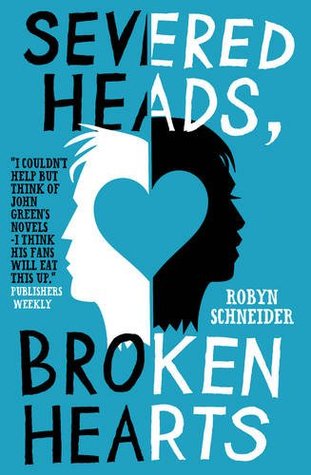 Book title/Author: Severed Heads, Broken Hearts by Robyn Schneider
Publisher/Year: September 1st 2013 Simon & Schuster Children's
Genre: YA Contemporary
Series: No
Pages: 288
Source/Format: Paperback | Bought
Rating: 4.5 stars out of 5
*This review may contain spoilers!*
Synopsis
Golden boy Ezra Faulkner believes everyone has a tragedy waiting for them—a single encounter after which everything that really matters will happen. His particular tragedy waited until he was primed to lose it all: In one spectacular night, a reckless driver shatters Ezra's knee, his career as a jock, and his social life.
No longer a front-runner for homecoming king, Ezra finds himself at the table of misfits, where he encounters new girl Cassidy Thorpe. Cassidy is unlike anyone Ezra's ever met— achingly effortless, fiercely intelligent, and determined to bring Ezra along on her endless adventures.
Together, Ezra and Cassidy discover flash mobs, buried treasure, secret movie screenings, and a poodle that might just be the reincarnation of Jay Gatsby. But as Ezra dives into his new studies, new friendships, and new love, he learns that some people, like books, are easy to misread. And now he must consider: If one's singular tragedy has already hit and everything after it has mattered quite a bit, what happens when more misfortune strikes?
My review
After hearing tons of great things about both this book and Robyn's latest, Extraordinary Means, I decided it was time for me to give it a go as I'd had it on my TBR shelf for ages already. Thankfully this was exactly what I needed it to be: a classic contemporary, with a little twist.
Throughout the entirety of the book, you could feel Ezra's pain, turning from a golden-boy into someone who now feels out of place around his friends and everything from his past. Ezra was written well; he felt real and his pain and angst actually felt quite relatable and perfectly understandable, which isn't always the case in YA novels.
I liked how instead of Ezra falling back in with his popular friends, or making new friends altogether, he ends up going right back to his childhood friend, the one person that didn't abandon him. This seemed different to the norm in YA, but the most realistic option of the three.
The romance in this book played a big part, and I really enjoyed it. At first I was a bit wary of Cassidy, but her and Ezra got on so well and had such great chemistry that I knew it would be good.
All in all, this book was great. Not quite perfect, but it is still a contemporary that I think you should check out if that's what you're looking for.
Izzy