Fangirl by Rainbow Rowell: Book review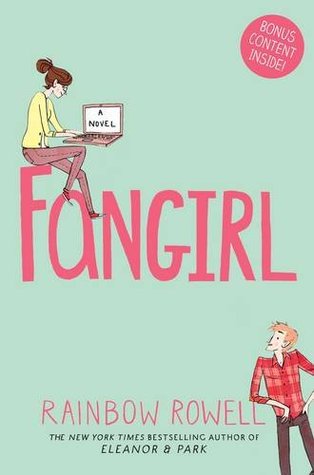 Publisher/Year: January 30th 2014 Pan Macmillan
Genre: YA Contemporary
Series: No
Pages: 461
Source/Format: Paperback | Bought
Rating: 5 stars out of 5
*This review may contain spoilers!*
Synopsis
Cath and Wren are identical twins, and until recently they did absolutely everything together. Now they're off to university and Wren's decided she doesn't want to be one half of a pair any more - she wants to dance, meet boys, go to parties and let loose. It's not so easy for Cath. She's horribly shy and has always buried herself in the fan fiction she writes, where she always knows exactly what to say and can write a romance far more intense than anything she's experienced in real life.
Now Cath has to decide whether she's ready to open her heart to new people and new experiences, and she's realizing that there's more to learn about love than she ever thought possible ...
My review
I put off reading this book for so so long because I knew how popular it is and just how many people love it, and I didn't want that to not be true for me. Thankfully I feel exactly the same as probably thousands of others, because I absolutely adored this book.
I was a bit wary of the whole social anxiety aspect of this book, with Cath having it (pretty sure that's not a spoiler but sorry if it is). With something like that, it could easily be written wrong, and could be very offensive to many people, but when it came up it was dealt with well and I really appreciated that. To be honest, it didn't feel like a major part of the story, which was what I assumed it would be.
I really liked the setting of this book: college. I don't think I've ever read a book set in that time in someone's life, but I do want to read more. There is so much more of a variety of people, I feel, then just a regular high school where everyone is local.
Cath was so relatable, for lots of people, and not just me. She is awkward, and shy, and smart, and is hopeless when anyone gives her attention and I loved her. This is a realistic representation of a teenage girl, rather than a hopeless nobody who gets the bad boy. Levi is the perfect guy for Cath. He isn't some amazingly handsome popular boy, but a nice, funny, lanky guy who is in Cath's league.
This book has become very special to me, and I encourage you to read it as I think a lot of people can relate to it.
Izzy