Playlist for the Dead by Michelle Falkoff: Book review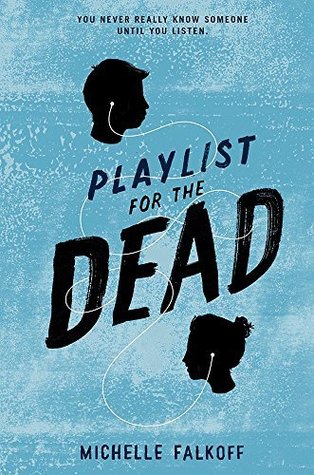 Publisher/Year: January 27th 2015 HarperTeen
Genre: YA Contemporary
Series: No
Pages: 288
Source/Format: Hardback | Gifted
Rating: 4.5 stars out of 5
*This review may contain spoilers!*
Synopsis
Here's what Sam knows: There was a party. There was a fight. The next morning, his best friend, Hayden, was dead. And all he left Sam was a playlist of songs, and a suicide note: For Sam—listen and you'll understand.
As he listens to song after song, Sam tries to face up to what happened the night Hayden killed himself. But it's only by taking out his earbuds and opening his eyes to the people around him that he will finally be able to piece together his best friend's story. And maybe have a chance to change his own.
My review
This book was one of my highly-anticipated books of 2015, so when I received it as a birthday present I was so happy! I knew the general premise prior to going in but I hadn't really read any reviews for it, so I didn't know how people felt about it. However, personally I really enjoyed it.
The concept of a unique playlist that connects with this book is a big part of what intrigued me in the first place and it didn't completely disappoint. I thought that the majority of the songs matched the particular chapter, but not all. My main issue with the whole book is that I became too concerned with matching my reading pace to the length of the songs, which was extremely hard to do and I ended up either finishing the song way too early or finishing the chapter and having to just sit there and listen to the rest of the song. I do understand that this is a difficult thing to get right for all of the readers, and unfortunately I just happened to be one of the people who didn't fit.
On the whole, I liked Sam. He didn't get on my nerves (which means a lot sometimes) and he was flawed, which I appreciated, because it would've been ridiculous for Falkoff to write her protagonist to be perfect in a situation like this, so I'm glad she didn't.
Playlist for the Dead had me gripped from chapter 1 and I read it VERY quickly. It had that thriller feel to it; I just wanted to know what happened next. This book was great, despite the timing issue and I will certainly read whatever Michelle Falkoff comes out with next.