Series review: To All the Boys I've Loved Before duology by Jenny Han
I read this duology back-to-back in the middle of August, so I decided to group the 2 reviews together into one big one. Hope you enjoy!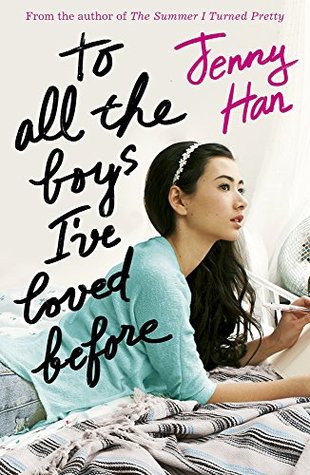 Book title/Author: To All the Boys I've Loved Before by Jenny Han
Publisher/Year: August 7th 2014 Scholastic
Genre: YA Contemporary
Series: To All the Boys I've Loved Before #1
Pages: 420
Source/Format: Paperback | Bought
Rating: 5 stars out of 5
*This review may contain spoilers!*
Synopsis
Lara Jean keeps her love letters in a hatbox her mother gave her. One for every boy she's ever loved. When she writes, she can pour out her heart and soul and say all the things she would never say in real life, because her letters are for her eyes only. Until the day her secret letters are mailed, and suddenly Lara Jean's love life goes from imaginary to out of control...
My review
I bought this book a year ago without having any idea what it was about simply because I thought the cover was stunning, and that was enough to make me want to get it. I had heard good things about Jenny's other series, The Summer I Turned Pretty, and I actually bought all three after acquiring this one, but I have yet to read it.
This book had quite a lot of mixed reviews: a lot of people love this book, but some people who's reviews and opinions I always listen to really didn't like it. I wanted to like this book, but going in to it I wasn't sure if I would or not, but obviously from my rating you can see that I LOVED IT.
I love reading books where family is a big part of it, and this was basically the epitome of it. Lara Jean and all the members of her family (including Josh) were all so unique and they each brought something different to the dynamic of the Song/Covey household. I do love Lara Jean, but I think my favourite might have to be Kitty, because she is so smart and hilarious.
The general premise did really intrigue me, (I mean, doesn't having your love letters sent out just seem like the most embarrassing thing ever?) but what I really liked about it was that the negative of that situation became positive in more ways than one. Not only did it help start a relationship, but it also helped to start and restart friendships too.
This book has become a new favourite of mine and already I want to read it again. I encourage you to pick this book up and have the pleasure of reading it the first time.
Publisher/Year: May 26th 2015 Scholastic
Genre: YA Contemporary
Series: To All the Boys I've Loved Before #2
Pages: 337
Source/Format: Paperback | Bought
Rating: 5 stars out of 5
*This review may contain spoilers!*
Synopsis
Lara Jean didn't expect to
really
fall for Peter.
She and Peter were just pretending. Except suddenly they weren't. Now Lara Jean is more confused than ever.
When another boy from her past returns to her life, Lara Jean's feelings for him return too. Can a girl be in love with two boys at once?
My review
I started this book straight after finishing To All the boys I've Loved Before, because I just needed to know what would happen to Lara Jean and Peter and everyone else. A lot of people didn't expect a sequel, and felt that one wasn't needed, so I wanted it to be worthwhile, and it undoubtedly was.
I loved reading about Lara Jean and her sisters Korean heritage, and the small traditions that they still uphold, but also that their Korean side isn't the only side that they feel a part of.
Normally, I hate love triangles of any kind, but this one I didn't mind (you could even call it a love square) because it actually seemed plausible. There was genuine jealousy and feelings for more than one person and old relationships surfacing again. No one acted perfectly and that is what made it real.
Lara Jean definitely became more independent in this book, and I think a lot of readers will enjoy that because one main thing that a lot of people disliked about the first book was that they thought Lara Jean's voice was very childish, but I think she comes more into her own in this one. However, I must say that I didn't really agree with the people who thought she sounded childish, because I couldn't really see it.
This was a great sequel, and this duology overall has possibly put Jenny Han on to my favourite authors list.
Izzy